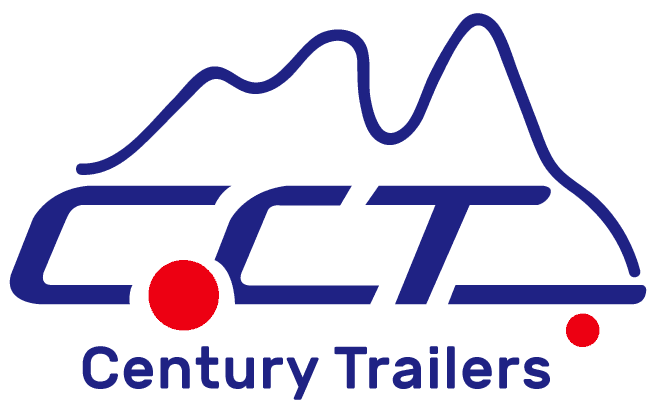 Century Trailers Warranty Terms & Conditions
Century Trailers warrants that, subject to the limitations and exclusions below, all parts of our manufacture or assembly of the trailers are free from defects in material and workmanship (jockey wheel, bearings, tires, wheels, brake pads & wearable parts are excluded) for a period of:
12 months from the date of purchase (3 months for commercial use). Any shortcomings in the original material or manufacture will be corrected without charge to the original purchaser for parts and labour incurred in that rectification.
This Warranty only applies to items sold as "new" and does not extend to any items sold via auction, or labelled "factory seconds", "ex-demonstration" or "damaged", unless specifically stated otherwise by us in writing. This Warranty is an agreement between us and yourself personally and is not transferable under any circumstances. If an item is sold to a third party by the original purchaser, then this Warranty is terminated immediately for that item, and the original purchaser shall make no claims or be eligible for any claims on behalf of the new owner.
If work under this warranty is required, the purchaser should immediately lodge a warranty claim at www.centurytrailers.com.au/warranty (download the warranty form). The process to lodge a warranty:
1. Download the warranty form from the website centurytrailers.com.au/warranty
2. Fill out all the required information and what the claim is regarding.
3. Attached clear photos (Such as photos for claim parts, vin plate. All Photos must be taken at the time of the incident) and a copy of this form.
4.Email to warranty@centurytrailers.com.au
5. Wait for approval email send from Century Trailers. Any warranty needs to follow these processes, otherwise Century Trailers will not pay for it. The warranty is not transferable to a subsequent purchaser if the Trailer is sold by the original purchaser during the warranty period. Your Century Trailers comes with guarantees that cannot be excluded under the Australian Consumer Law.
'The benefits within our Warranty are in addition to other rights and remedies under the Australian Consumer Law in relation to this product. Keep it serviced, keep it covered. Any unauthorized modification will void this warranty. This warranty does not apply if the trailer is not serviced regularly, or the damage occurs because of:
– Accident,
– Fair wear & tear,
– Misuse, neglect or abuse,
– Storm damage or other acts of Nature,
– Unauthorized repairs made or attempted.
The warranty covers the original trailer only. It does not cover the following items:
– Appliances and equipment which are not manufactured or supplied by Century Trailers (for example a refrigerator, freezer or customer modifications) are covered by the warranty of such items for the term offered by the manufacturer of such items.
– Any defect resulting from overloading, misuse, negligence, accident or other cause beyond the direct control of
Century Trailers.
– Any defect resulting from fitting or installation of any accessories or options such as an altered tool box or other items after the trailer has left the premises of Century Trailers.
– Any rectification or other work required due to alterations in Local, State or Federal legislation which occurs after manufacture of the recreation vehicle.
– Any consequential damages or repair work necessitated due to continued usage or towing after a defect has, or should have, become apparent to the purchaser or user.
– Any accommodation or re-location expenses including fuel/freight. Loss of earnings or rents or other costs incurred
before or whilst repairs under this warranty are being affected.
– Trailer not be serviced on time (Trailer need to be serviced every 6 months or more frequently if customer high frequency use). re-grease bearings and bolts every 500km.
Canvas covers, Zips, straps and mesh are not covered under this warranty.
NOTE: This manufacturer warranty does not cover general consumable parts on the Trailer and rust on any painted or scratched galvanized surfaces of the trailer or any of its components. (E.g. axles, springs, couplings and jockey wheels.)
Any items sold as "factory seconds", or "damaged" items are sold on an "as is" basis. Due to the nature of such items, i.e being "factory seconds" or "damaged", it is reasonable to expect that some imperfections or flaws may exist even where it is not initially apparent. While we will notify you of any defects or damage to such goods of which we are aware, you purchase the goods on notice that we may not be aware of all such defects and damage, and that the price you pay for the goods includes a discount to allow for the risk of you discovering further defects or damage.
We do not make any representations as to the quality or fitness of any goods sold on this basis, and it is a term of the contract for the purchase of any such goods that the customer has made their own enquiries and inspections and relies exclusively upon those enquiries and inspections in deciding to make that purchase.
Owners or any authorized pick-up people (included freight company's drivers) have the responsibility to check the quantity and conditions of the order before leave Century Trailer's premises. Century Trailers will not take responsibility for missing items or damaged item after leave our premises.
It is the owner's responsibility to inspect and maintain the trailer. Before use must check tires condition, nuts, bolts, moving positions, safety chain, lights and all other trailer condition. Any banding, leakage, breakage, abnormal noise. Check the trailer condition every 80km. Re-grease all bolts and bearings every 500km. The trailer must be serviced every 6 months or more frequently if used constantly every day.
Any broken parts that need replacing under the warranty period you must follow Century Trailers warranty terms and conditions. Bring the broken part into Century Trailer before replacement part is supplied. Or the replacement parts will be charged.
Transit: Trailers must be returned to Century Trailers for warranty work to be done. The warranty will not cover any freight or postage cost at both ends. Century Trailers is not liable for any loss, theft, or damage to any goods in transit. All trailers need to be empty when return for warranty.
You agree that, to the greatest extent permitted by law, we shall not be liable for consequential or special damages of any kind, including aggravated, punitive, or exemplary damages. Without limiting the generality of this clause, you agree that our liability shall be limited in all cases to the amount you paid for the products underlying a claim.
Century Camper Trailer Pty. Ltd. Address:
706-718 Beaudesert Road, Rocklea, QLD, 4106
PH: 07 3195 0404
ABN: 81 164 704 778 www.centurytrailers.com.au
(Third party claims not accepted) *Please always check the latest edition on our website. https://centurytrailers.com.au/warranty
---